Beach Wreaths with Bloom Babes & Holiday Wreath at home DIY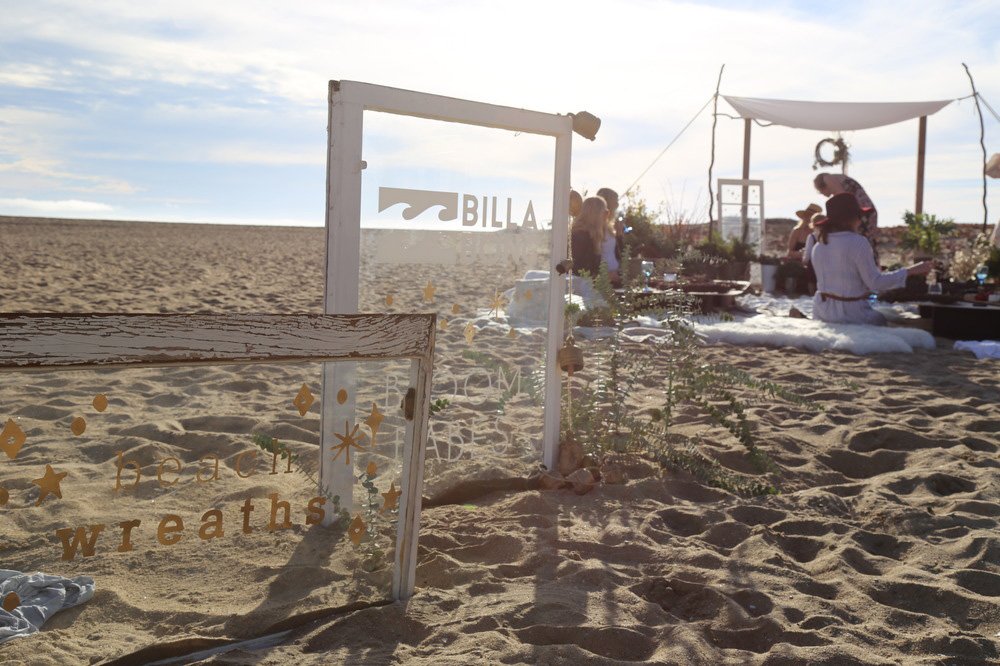 When the people, place and process are basically just as good as the end product, that's a good day by us…and when Bloom Babes brings the greens and we bring the beach, well, it's fairly certain holiday magic is about to happen!
Leave it to our good friends Angie and Emily of Bloom Babes and owners of Studio De La Flor to team up for a magical afternoon and 'beach wreath' making marathon complete with the sand between our toes, salt in the air, sunshine on our faces, and plenty of cheese to pass around!
So we dressed in our festive holiday frocks like our two-piece Breathe Light Top and Dancing Til Dawn Skirt, Aloha Babe Dress, and Summer Sunsets top and learned a little something about dressing up our doors in the finest Holiday florals.
Afterwards we caught up with the Bloom Babes girls on what's new and provided a little at-home how-to based on what we learned from these leading ladies of the floral world in sunny southern California and beyond!
What was the best part of beach wreath making? Besides being on the beach – duh!
Besides it being a totally perfect beach day ;) it was so fun to gather together and just simply create. The hustle and bustle of life just came to a halt and we all got together to enjoy each others company. I think the best part was watching everyone so naturally choose the flowers and foliage that spoke to them the most and arranged them so effortlessly and beautifully! It was almost instinctual with hardly any "teaching" involved on our end. :)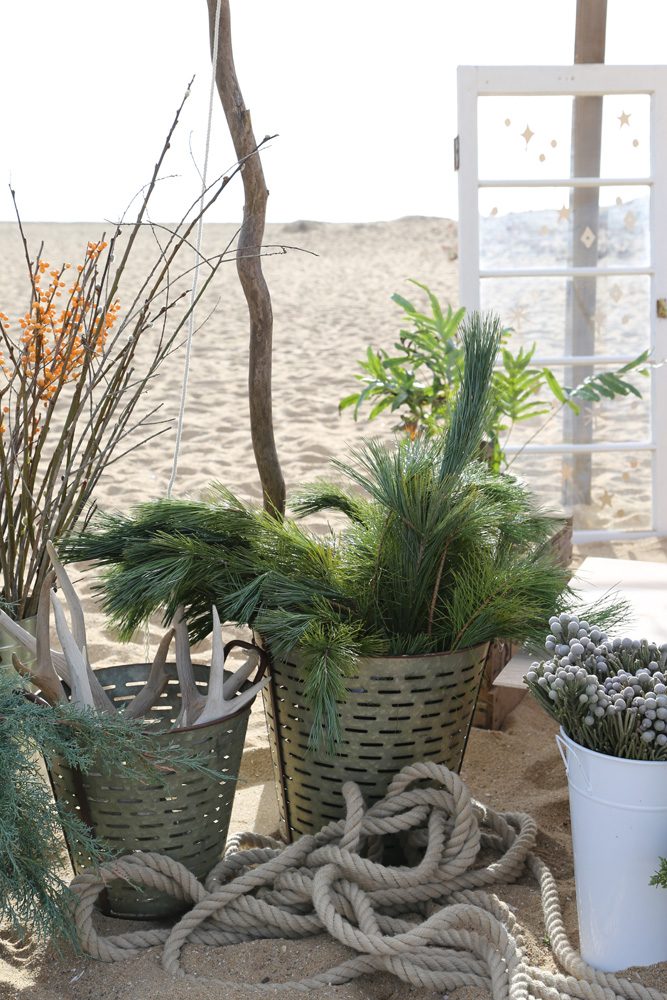 Any tips for the novice wreath makers at home?
Have fun! There's no "right" way to do it. A few tips to make it easier on yourself is by starting with a base of greens, then add your texture and focal blooms. There are also lots of fun ideas on Pinterest! It can help with ideas on how to go outside of what you would traditionally see on wreaths in retail stores. Try adding silk ribbons, twigs, maybe even shells!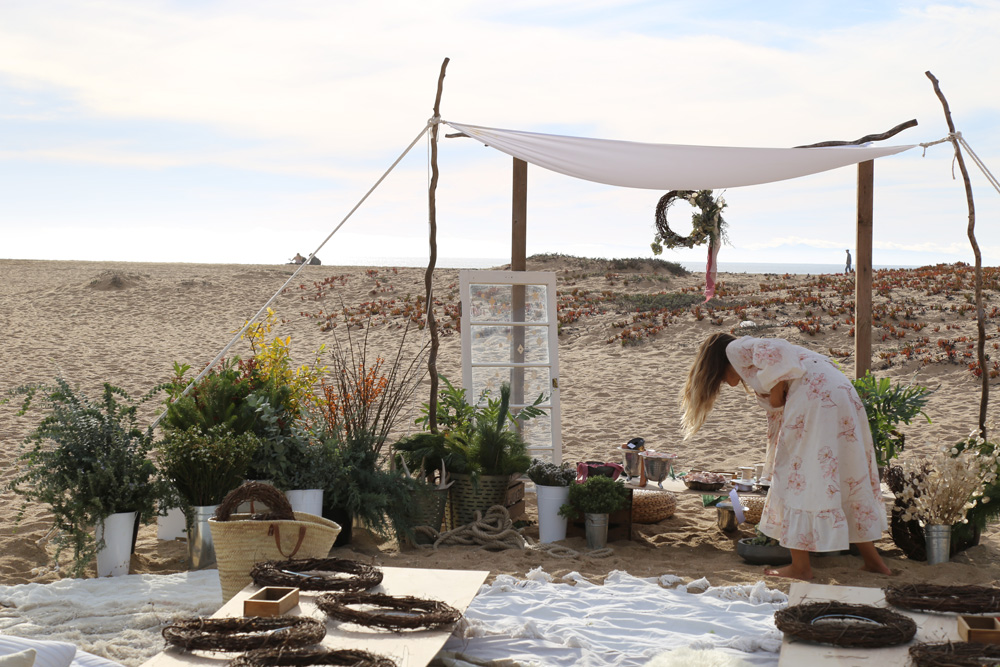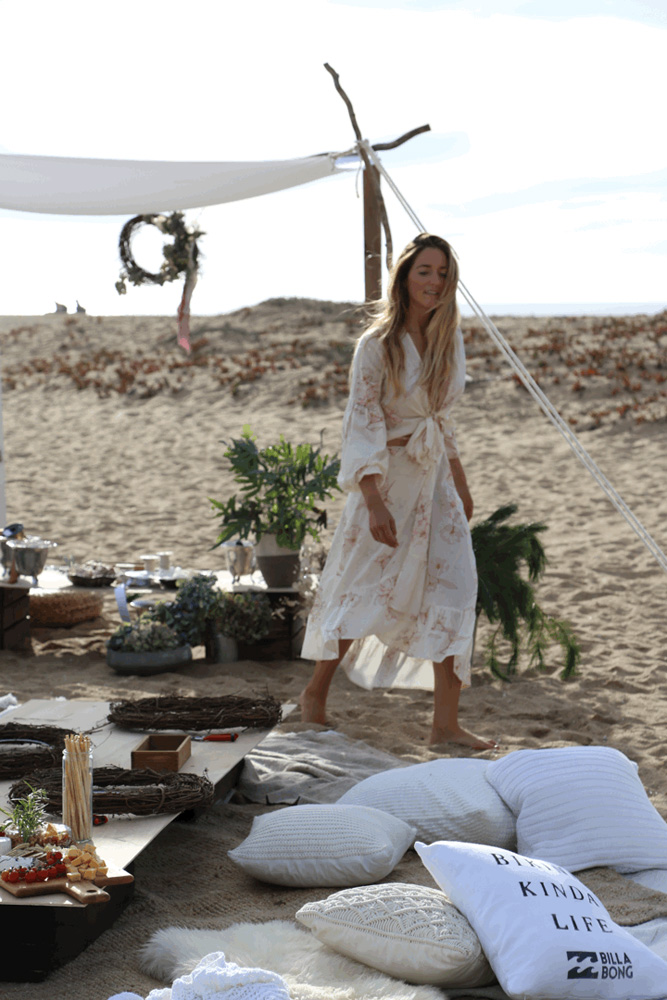 We hear you opened a new studio (which is pretty darn exciting). Tell us all about it!?
We are SO jazzed on our new space! The location couldn't be better - 5 minutes from the floral wholesale market and 10 minutes from the beach. Since this place is basically our second home nowadays, we really wanted to turn it into a place we could be really proud of as well as offer it as a place for the community to gather. We spent the first few months giving it a make-over with new flooring in the offices, installing fun new ceiling tile, a fresh coat of paint, and epoxy floors in the warehouse portion. Oh and we pretty much jungle-fied it all with a zillion plants! Within the last two months, we've had our inaugural party, 3 baby showers, a pop-up holiday shop, and a mama's wellness class. We are really looking forward to hosting more workshops and community events where people can gather in a beautiful place and feel at home, too. We're currently working on a website, but you can see more about it on Instagram @studiodelaflor and our blog!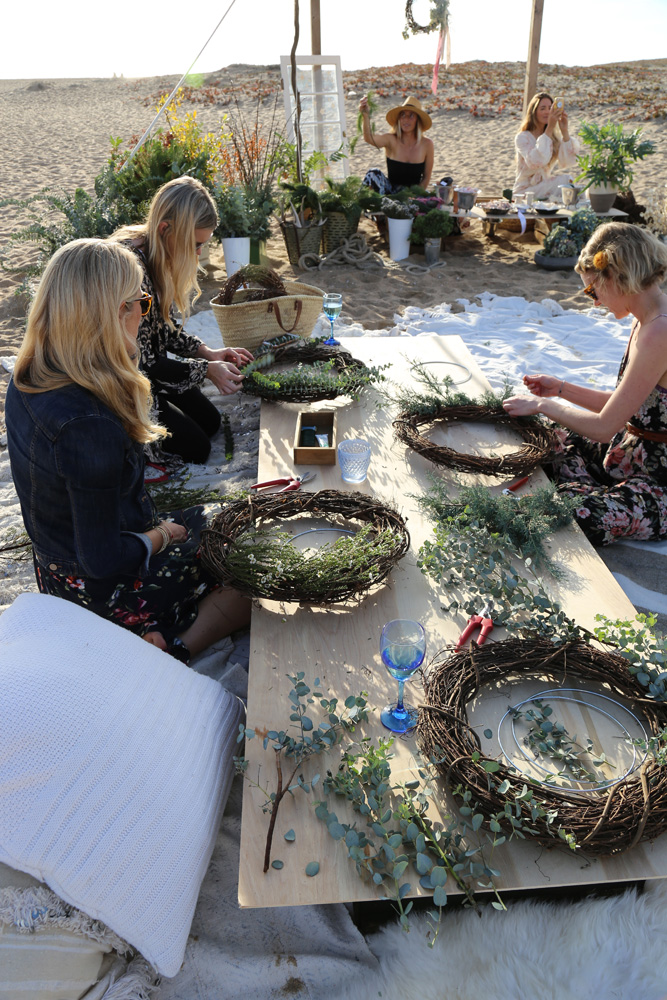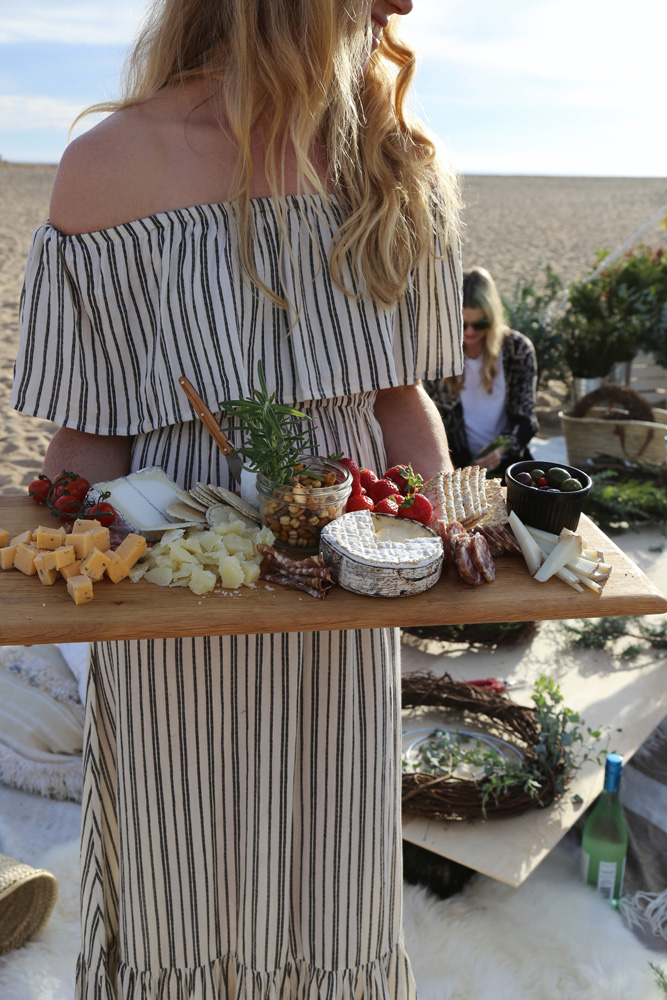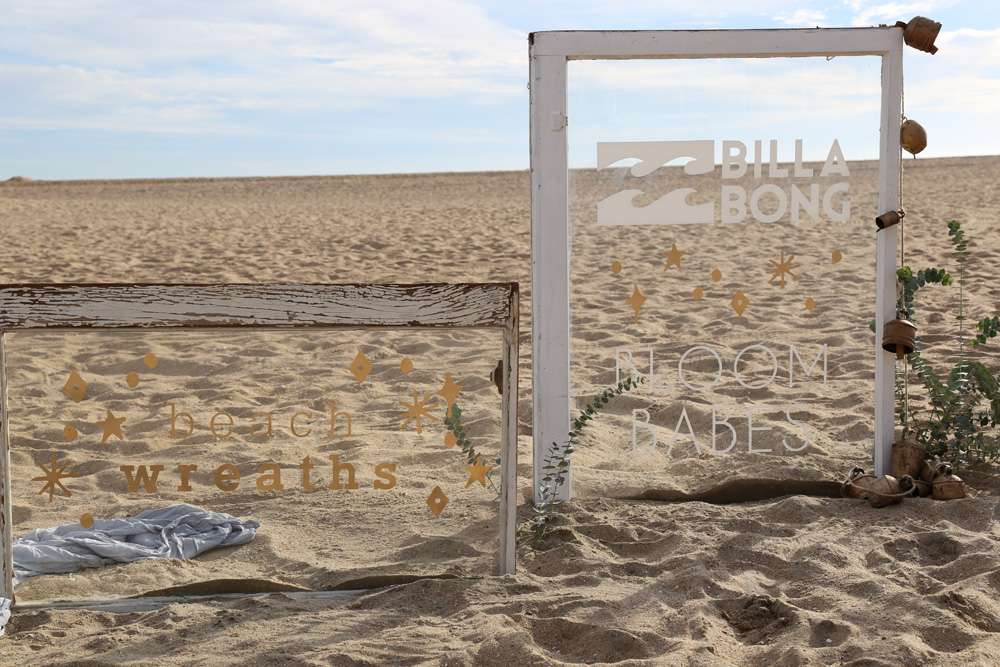 where are you both finding inspiration in your work right now?
We have had so much fun with our floral installations lately! We made a really cool floor installation recently that adopted more of an English garden sort of feel, and the result looked very effortless and natural, yet refined and intentional. (seen here). We've been playing a lot with more muted colors also, like mauves, tans, and taupes. The combinations are endless and transition really beautifully!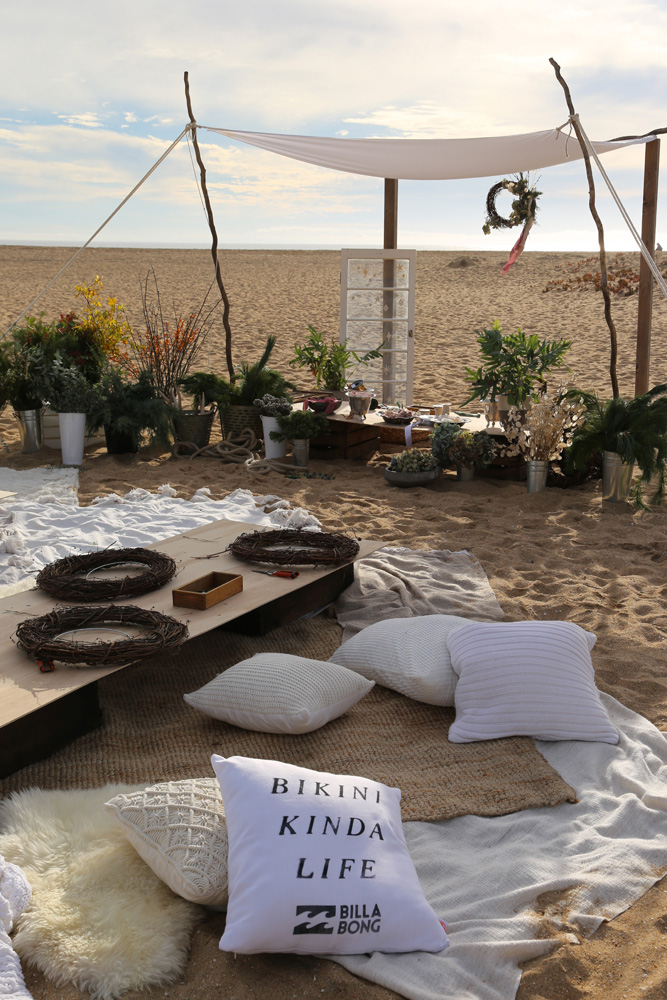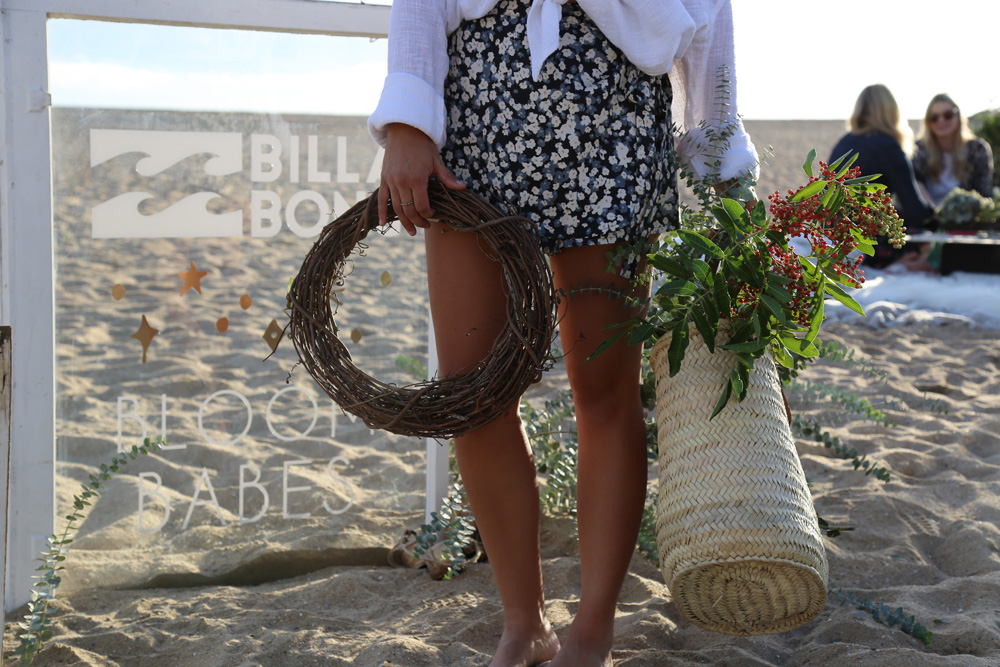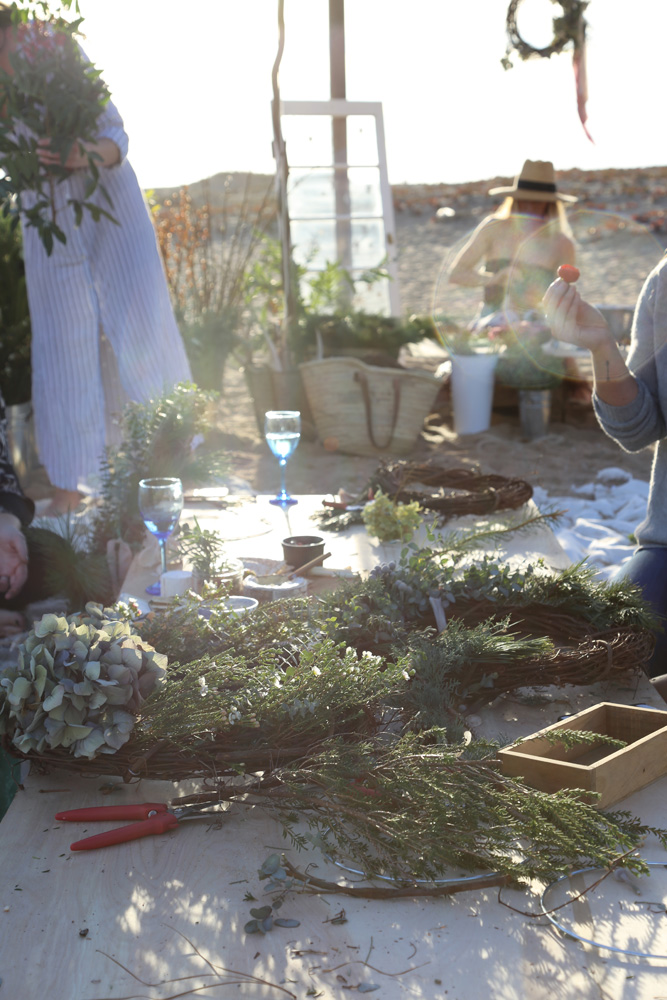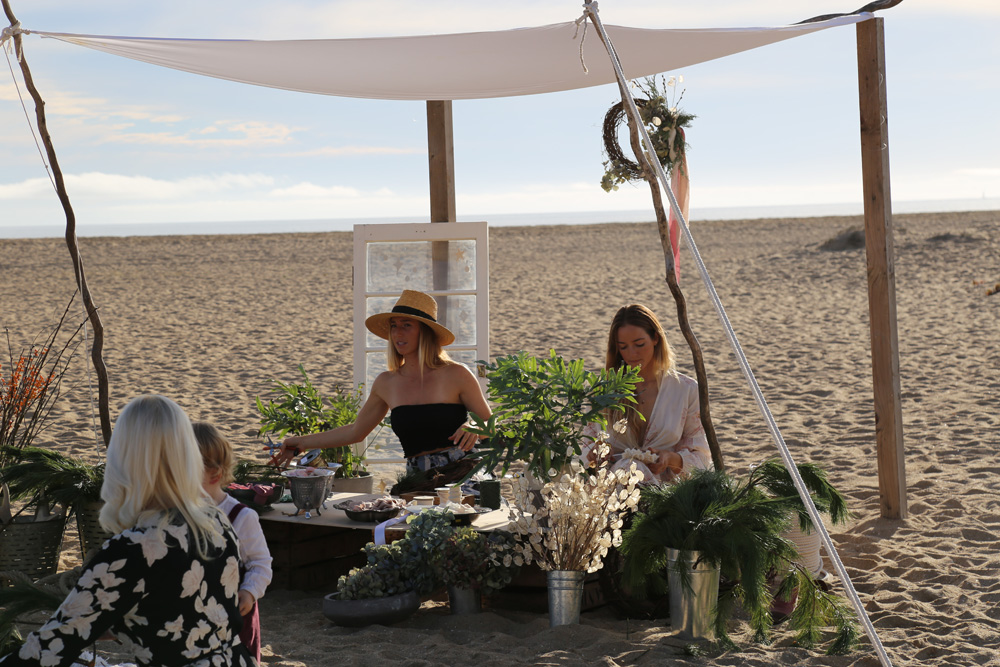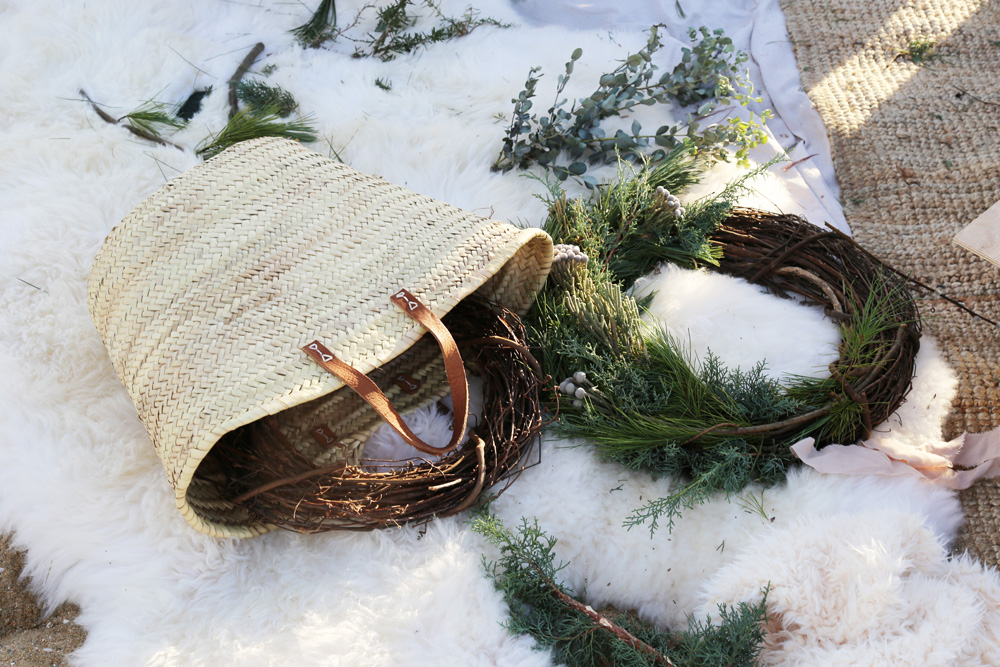 We hear you're headed for some enviable Holiday getaways…Spill….
Oh boy. Well, Emily was headed to Bali on Christmas Day, but with the news of Mt. Agung erupting, that unfortunately put a halt to the trip. It's also a huge bummer for the people who rely on the tourist economy, especially during one of the busier seasons. Instead, Em is planning on laying low and taking advantage of spending quality time with her family since we've had such a busy year. Go big or go home, basically. Home is calling this time.
And I'll be spending time with family as well! But headed to Argentina this time. I'll be visiting Iguazu waterfalls, spending time in the city of Buenos Aires, and headed to the coast to Cariló for some fun in the sun with lots of Argentine asados (its like a BBQ haha).
What are you both most looking forward to on each of your trips?I know Emily would say that she will be stoked to spend some much needed time with her boyfriend who is currently in school to become a physical therapist.. which means he's been MIA most of the year (but totally killing it and we are so proud of him). A few weeks off will be a great refresher :)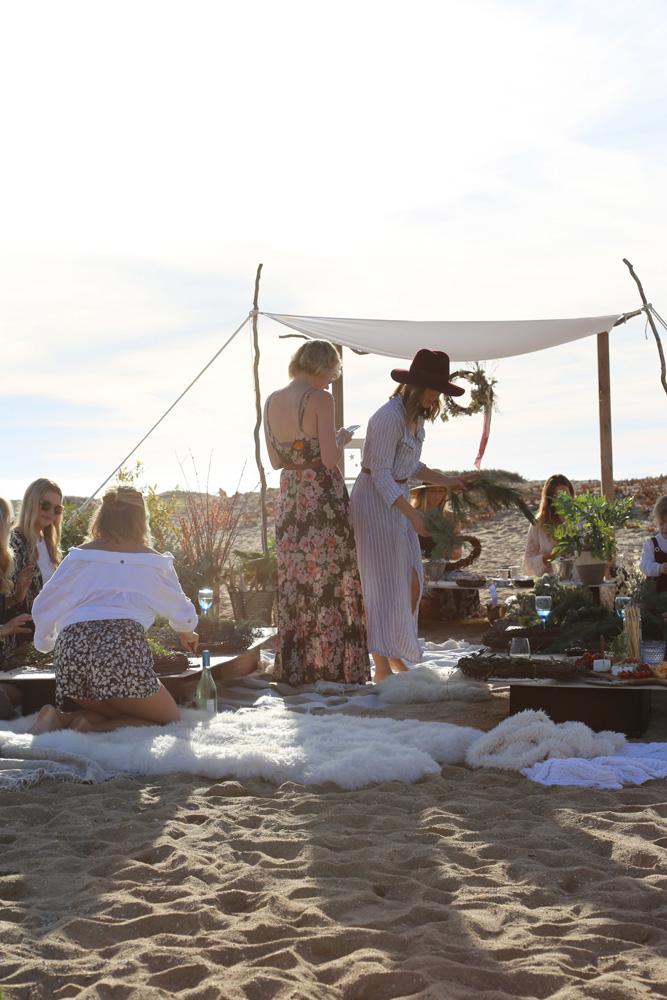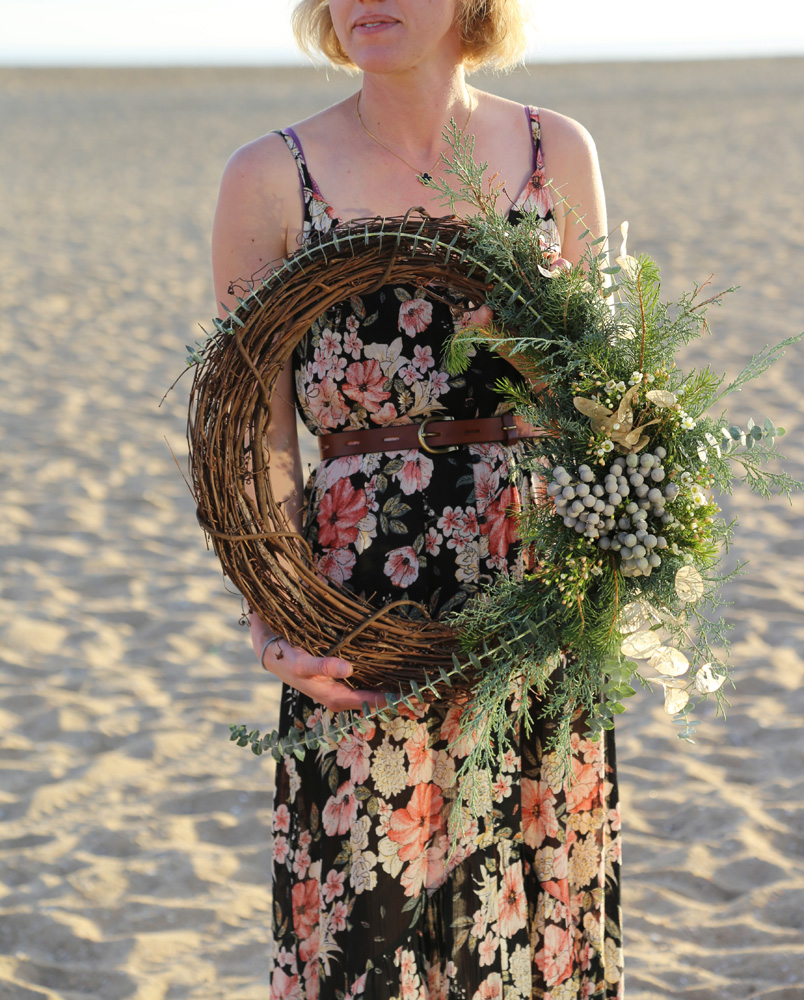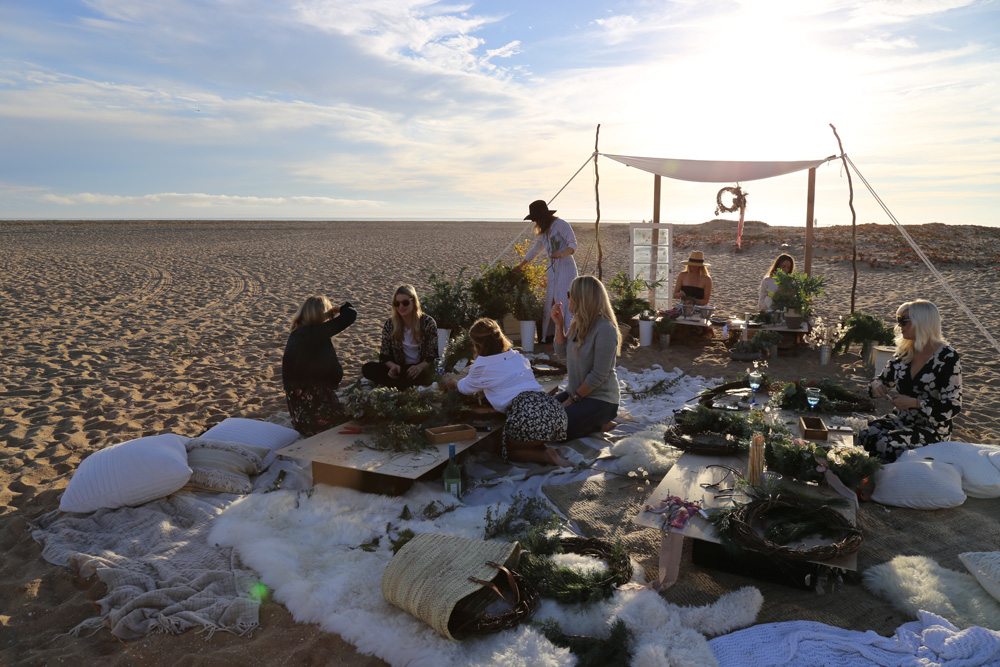 I'm really excited to go back to Argentina since it's been about 7 years since I've been there. Also it is summertime down there so I am really itching to plop my body near a pool and/or beach and absorb some much needed sunshine. Also can't wait to stuff my face of facturas and homemade pasta and pizza and ñoquis and milanesa con papas fritas, etc. etc. (it's worth googling) :)
Any advice on planning a trips?
Flexibility is a must. Natural disasters happen and can totally throw a wrench in all of your plans. It could also just not be lining up for some reason or another (either flights are crazy expensive, you can't find a hotel, or transportation issues, etc.). Sometimes they are just not meant to be for the moment and maybe should be seen as a time to reflect on other things that could be needing your attention and love! Or take it as a sign to check off another place on your bucket list instead :)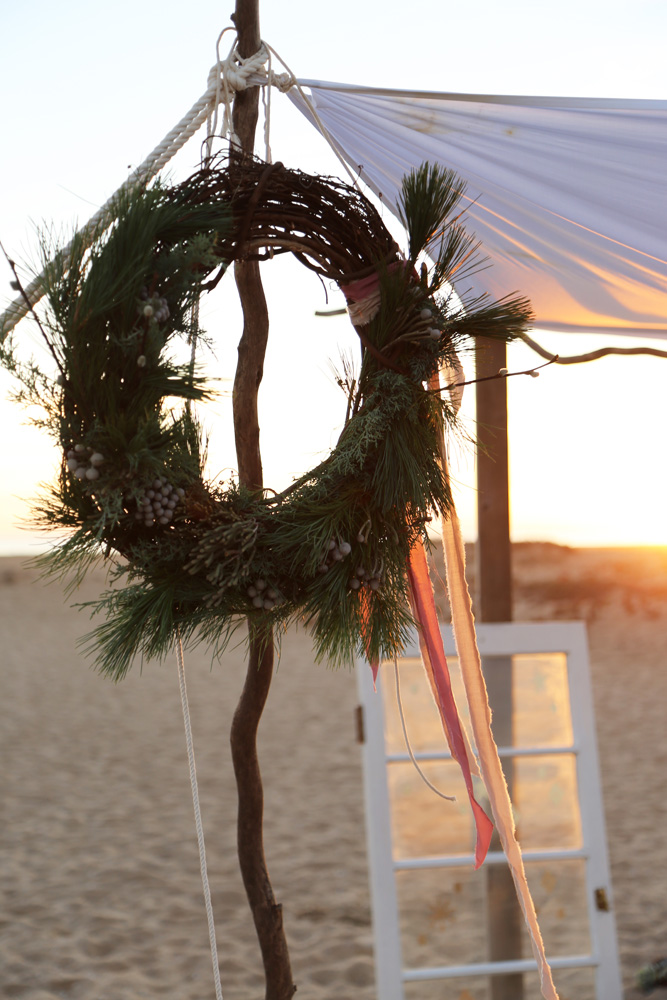 Any favorite Bikinis your looking to bring along for the adventure?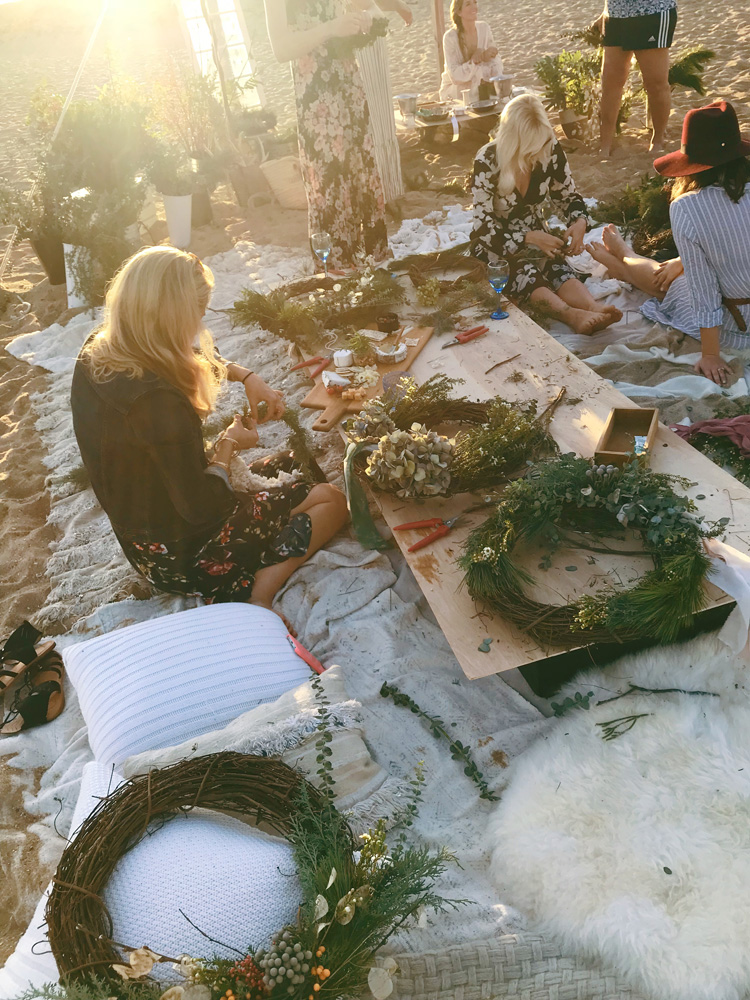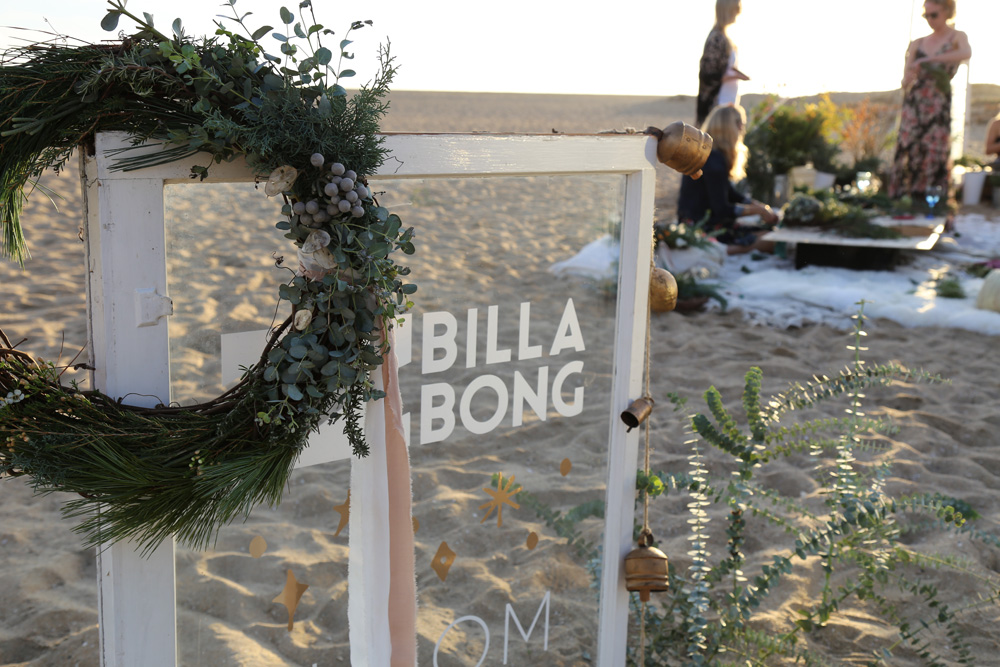 YES! We've had our eyes on a few ;) I love the Sol Searcher Tanga Bikini Bottom (finally found a cute cheeky bottom!! hallelujah) paired with the Sol Searcher Tank Bikini Top, in colors clay and blush. Sol Searcher One Piece has also been a favorite (I'm seeing a trend here). The New Wave Collection has been so fun to watch all the girls wearing in Hawaii this past week as well! Em's favorite from the New Wave Collection is the Reissue Tank and Tanga Bikini.
Want to make a beachy wreath of your own?
Here's what you'll need:
-Medium sized metal hoop
-Cotton rope or twine
-Scissors
-Floral wire
-Greenery (dried or fresh)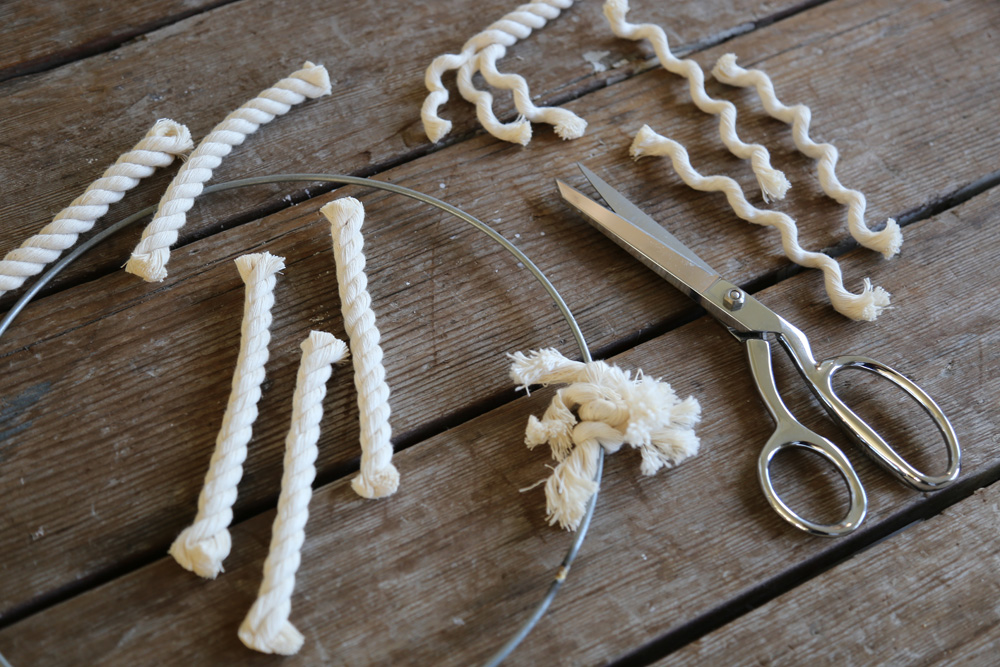 Begin by cutting small 4 inch strips of rope, knot them one after the next until half of your hoop is filled.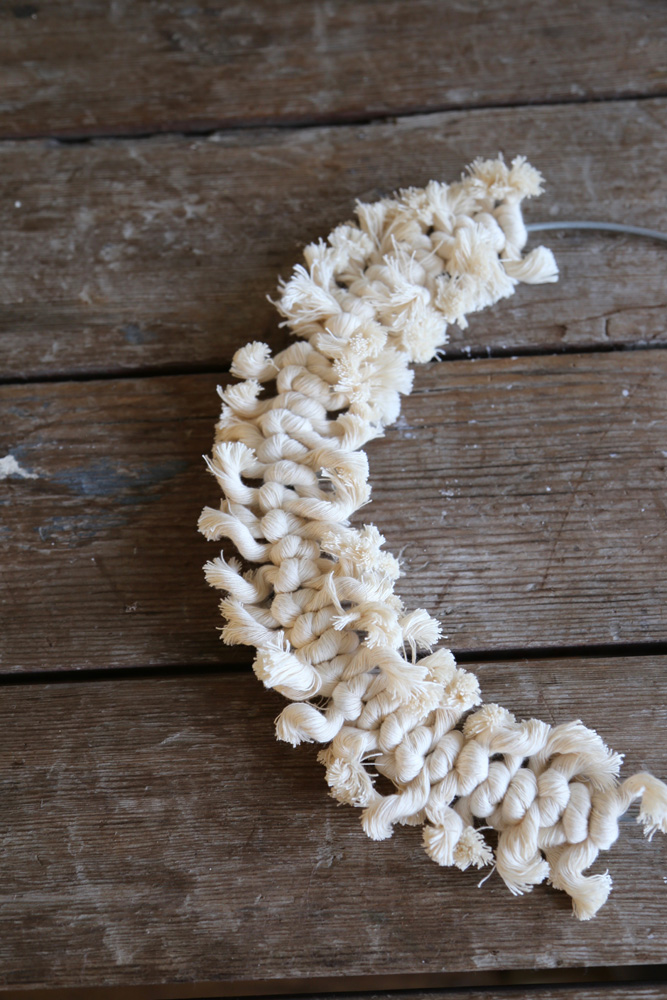 Starting at the top of your 'beach wreath' begin by securing small bits of greenery using your floral wire and wrap around to secure tightly.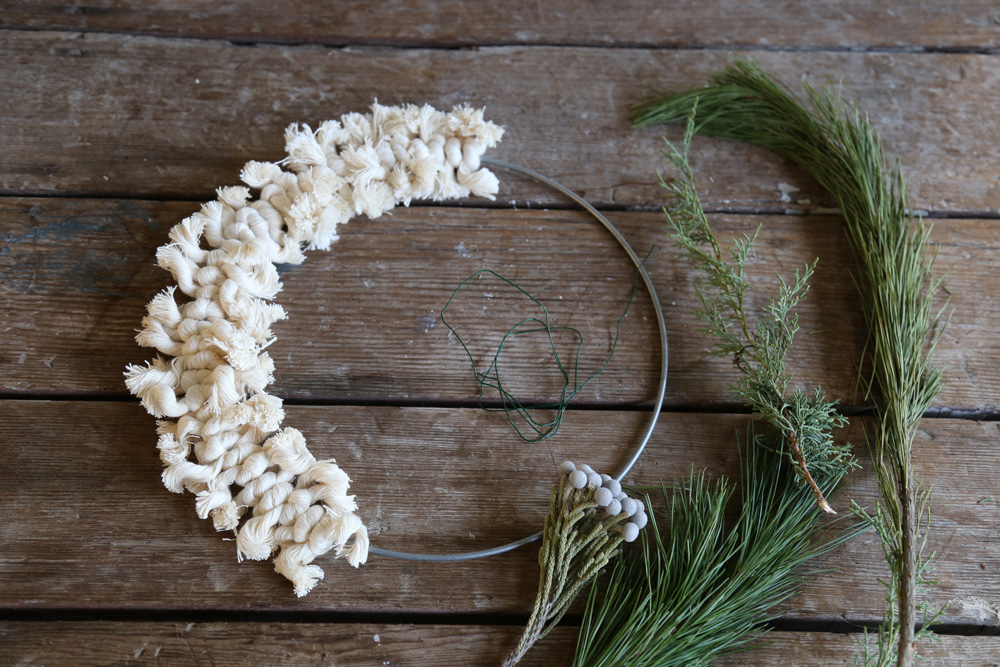 Repeat this step and layer your greenery in an overlapping fashion that hides your floral tape and creates a full appearance.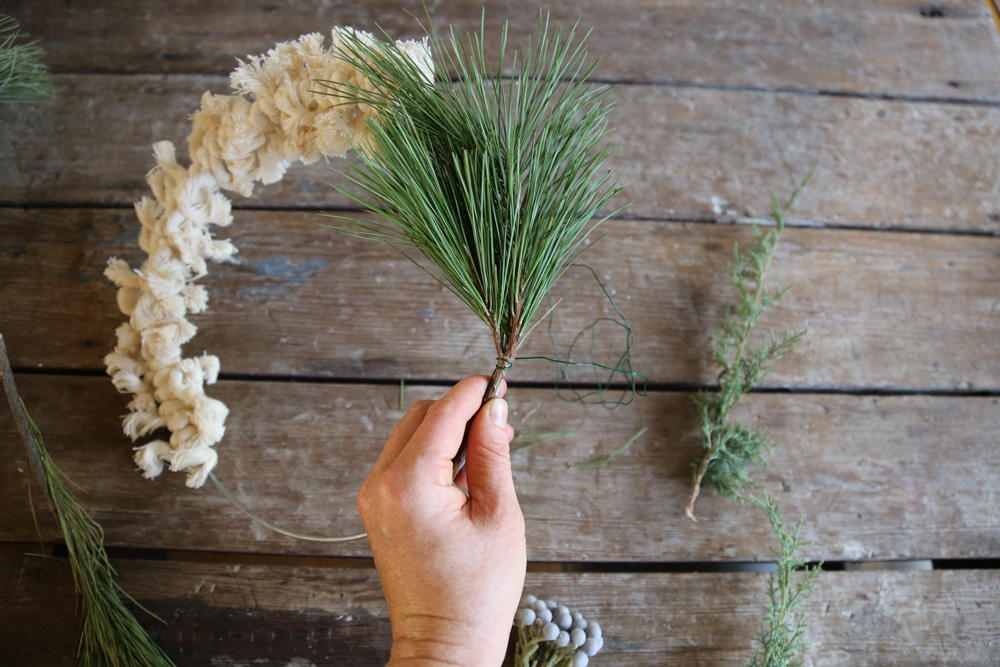 Cut a length of rope to secure to the top of your wreath for easy hanging around the house!